Naf d-ty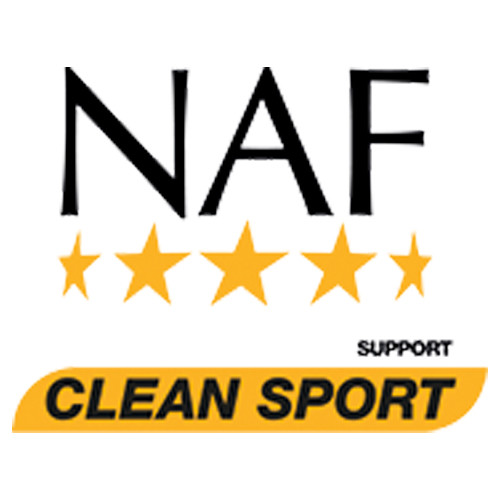 To assist in maintaining relaxed, healthy muscles. Feed to horses prone to muscle stress or where history dictates.
Not in stock - will be shipped within 2 - 10 days
Gratis verzending boven de €49,-
WhatsApp: +31 (0)653340808
Voor 23:59 besteld = volgende werkdag in huis
Overleg met onze specialisten
| Contents | Number of days | Price | Price per day |
| --- | --- | --- | --- |
| 500 gr | 15 | €42.95 | €2.86 |
| 1000 gr | 30 | €83.95 | €2.80 |
NAF D-Ty
For the nutritional support of healthy muscle tissue and function. D-Ty contains naturally sourced, scientifically verified antioxidants working in synergy with optimum levels of Vitamin E and zinc to ensure the requirements of peak muscle health are met.
More Information
Brand
NAF
Substance
Powder
Ingredients

Samenstelling

Biergist, Omicha bessen, Zonnebloem zaad, Methyl sulfonyl methaan (MSM), Gelderse roos, Troszilverkaars, Bittere sinaasappelschil (rijp), Wortel (gedroogd), Rozenbottel schelpen, Gember, Goudscherm, Paardebloem bladeren, Mariadistel zaden, Kurkuma, Engelwortel, Blauw glidkruid, Tomaten pulp, Meidoorn bessen, Gingko bladeren, Rozemarijn, Bosbessen, Witte mineraalolie, Zoethout, Salvia miltiorrhiza, Fructo-oligosaccharide, Bijproduct van de bijenteelt (bijenpollen), Wei-eiwit poeder, Glutamine.

Toevoegingen per kg


Aminozuren: dl-Methionine. (5730 mg)
Spoorelementen: Zinksulfaat, monohydraat E6 (609 mg zink)
Vitamines: Niacinamide (8,620 mg), Vitamine A (83,300 I.U.), Vitamine B2 (93,30 mg), Vitamine D3 E671 (25,000 I.U), Vitamine E (12,600 I.U.)

Analytische bestanddelen

Ruw eiwit (14.8%), Ruwe oliën en vetten (16.6%), Ruw as (7.8%), Ruwe celstof (8.9%), Natrium (<0.1%)

Usage Text

Hoge dosering: 33-55 gram per dag. Geef de aanvangsdosering preventief wanneer er zichtbare tekenen zijn van stramheid na de inspanning en rond topprestaties, zoals wedstrijden.

Onderhoudsdosering: 22-33 gram per dag. De onderhoudsdosering kan onafhankelijk van het gewicht aangepast worden aan de individuele behoefte van het paard of de pony.

Lage dosering: 11-22 gram per dag

1 maatschepje van 25 ml bevat ongeveer 11 gram.
We found other products you might like!